Wedding Cake
Search Ideas
Below, listed by categories, are articles written for the most popular wedding cake keywords.

Use these exact phrases to visit new websites.
Wedding Cakes
Wedding Cake Toppers
Wedding Cake Pictures
Wedding Cake Stands
Wedding Cake Costs
Wedding Cake Bakeries
Grooms Cakes
Wedding Cake Ideas Using Our Research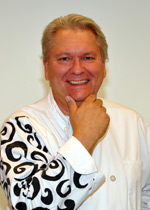 Hi, I'm Ed Otto, one of the founders of WeddingCake.org.

Our research and information is unique, which allows us to offer three distinct advantages over what you'll find on other wedding cake or bridal sites.
First, while there many articles and wedding cake ideas on websites regarding wedding cakes, most of the time, the commentary you're receiving is from a single source or staff writer.
At WeddingCake.org we gather facts, opinions, and statistics every month from between 50 to 100 bakers and speak with and survey over 2000 brides. This allows our articles, wedding cake ideas and web pages to be written by an experienced cake designer using extensive research.
Second, most wedding websites collect revenue by getting you to click on "Search Engine ads," "banner ads," or an "ad for a percentage of profit." Let's face it, as soon as a website accepts money to promote other companies, there is the potential for a conflict of interest.
WeddingCake.org does not permit paid advertising because our mission as an independent watchdog and resource center for brides could be compromised.
Third, other websites give you surface level information about wedding cake ideas, choosing a baker and ordering a wedding cake. WeddingCake.org actually creates and provides solutions in the form of innovative tools that empower you to find a talented, reliable and trustworthy baker.
While some say our innovative website and approach is controversial. We are puzzled.
If we are controversial because:
We fully endorse that all bakers should have written wedding cake guarantees;
We are the first organization to establish a set of industry standards for wedding cake providers that helps brides find caring and competent bakers;
We created the first "tough-as-nails" litmus test for brides to judge bakers
…then, we are cheerfully guilty as charged!
Please, understand, this website is here to assist, educate and inform you. You have the opportunity to be part of a brand-new wedding cake revolution…where you are in control…where you are in charge!
Please share any suggestions or thoughts to serve you better on Brides Help-Line.
Enjoy the FREE resources.
ENTER TO WIN $250
To pay the baker of your choice
for your wedding cake
One winner per month!
You'll automatically be registered for 3 consecutive monthly drawings.
Official contest details and rules